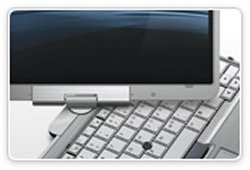 HP is hard at work readying two new portable notebooks for release, the EliteBook 2560p and 2760p. The news comes from HP itself and a NotebookItalia report, which reveals some specs for the 12.1-inch notebooks.
They might replace the current 12.1-inch 2540p and 2740p as they are getting long in the tooth at about a year old. The 2760 will be a convertible tablet, and the 2560 a more traditional notebook. Both will feature USB 3.0, DisplayPort and your choice of 1.4GHz Core i5, 1.6GHz Core i7 and 2.7GHz Core i7 chips. They may also have up to 16GB of RAM and a Blu-ray drive. The 2760p offers an LED-backlit 1366×768 display and an optional 1440×900.

No word on pricing yet.
2560p, 2760p, EliteBook, HP, Notebooks