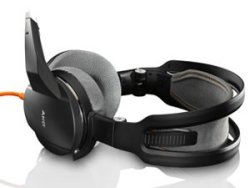 HARMAN International Industries has announced their latest gaming headset, the AKG GHS-1. It's already a winner of the Red Dot award for its outstanding product design. The GHS-1 will enhance your gaming experience with better realism, portability and comfort.
It is specially designed to draw gamers into the game and keep them immersed. It has a lightweight design so you can wear it for long periods without discomfort and passive noise reduction makes sure that gamers don't get distracted from the real world.

It also features a boom microphone that filters out background noise, so your gaming buddies will always hear what you are saying. The foldable 3D-Axis2 headband makes it easy to go anywhere. The AKG GHS-1 comes in black and orange, white and green and camouflage and blue for $79.95.
AKG GHS-1, Gaming Headset, harman