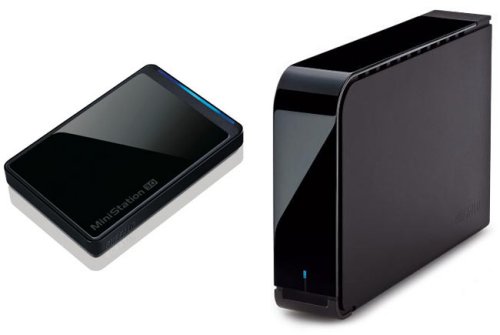 Buffalo has announced some new hard drives, the Buffalo MiniStation Pocket Hard Drive and DriveStation, a desktop hard drive storage solution that also supports Apple Time machine. The pocket sized Buffalo MiniStation will play nice with both PC and Mac and is available in 320GB or 500GB capacities. It appears to be USB 3.0 ready and can be powered by USB, without an extra power supply.
The larger desktop DriveStation comes with either a USB 2.0 or USB 3.0 port and is available in either 1TB, 2TB or 3TB storage capacities. It also comes with Buffalo's backup utility for automatic backups. It can be setup to support Apple's Time Machine using a USB connection as well.

We don't have any pricing on these just yet.
Buffalo, DriveStation, Ministation, Pocket Hard Drive, Storage, USB 3.0