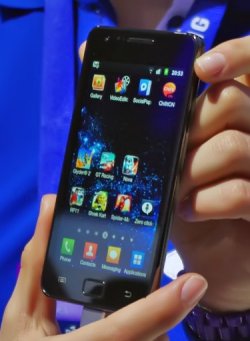 Looks like Samsung may be getting ready to launch a Tegra 2-based version of the Galaxy S II smartphone, for select markets. There are some good reasons to suspect that this is the case. The company has been collaborating with NVIDIA to create a new handset based on Tegra 2, and yet the Galaxy S II was the main focus of its Mobile World Congress unveilings.
Samsung hasn't officially said that this is the case and the MWC version uses the company's own dual-core Exynos SoC, but the official specs lists the Samsung SoC as a feature that "may not be applicable in some regions." So, putting 2 and 2 together, it looks like there will be a Tegra 2 version.

Hopefully we will hear from Samsung about this soon.
Galaxy S II, Samsung, Tegra 2