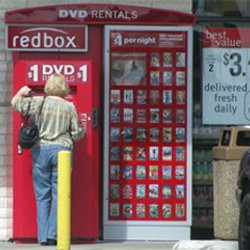 President of Redbox, Mitch Lowe told analysts that its upcoming online movie service would be subscription-based like Netflix and Hulu Plus instead of charging for each movie like others including iTunes, Zune or Amazon.
Users would pay a monthly fee to stream to devices and access discs at kiosks. Redbox will have a partner in the service and the Seattle Times is thinking that it is Walmart Vudu and Amazon. So if you are a Redbox fan, this is good news.

Would you choose Redbox over say Netflix?
movie service, Redbox, streaming, subscription