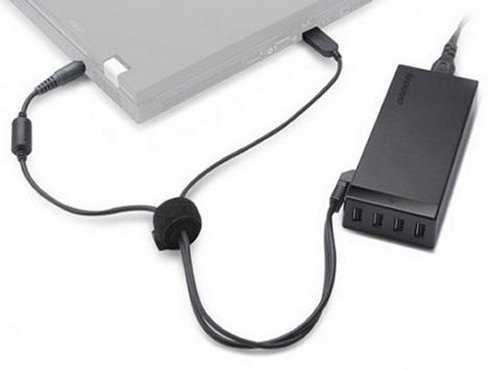 We've all had to switch USB ports because charging your phone through your computer isn't fast enough, but you need to connect your phone to your PC to transfer data. It's a pain. Thankfully, Lenovo's ThinkPad 65W AC Adapter with USB Hub is a good solution.
This AC Adaptor comes with 4 extra USB ports, one of which is always powered on as long as the adaptor is powered, so you can charge your device directly from the wall socket if you like. Just connect the Adaptor to your laptop's USB port and power port so you won't have to switch USB ports as long as it's plugged to the "always on" port. Even when the laptop is off, it will keep charging.

The Lenovo 65W AC Adapter with USB Hub will cost you $74.99.
65W, AC adapter, charger, laptop, Lenovo, USB Ports