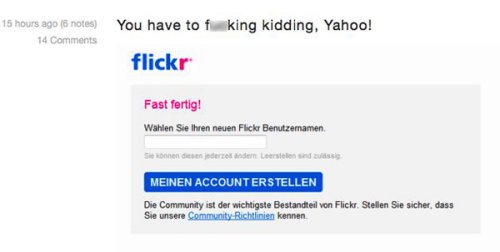 "The best online photo management and sharing application in the world." may not be able to make that claim any longer. It has deleted more than 4,000 pictures from a very prolific user. Flickr then sent photo blogger Mirco Wilhelm a so-called apology.
Understandably it irritated Mirco even further as he took to his blog with a post titled "You have to f**king kidding, Yahoo!" So, how did this happen? Well, Mirco realized that another blogger was using his photos and wanted Flickr to help, so he reported the problem. Then Flickr "accidentally deleted" Mirco's account and when he contacted Flickr about this they responded like this:

Hello,
Unfortunately, I have mixed up the accounts and accidentally deleted yours. I am terribly sorry for this grave error and hope that this mistake can be reconciled. Here is what I can do from here: I can restore your account, although we will not be able to retrieve your photos. I know that there is a lot of history on your account—again, please accept my apology for my negligence. Once I restore your account, I will add four years of free Pro to make up for my error.
Please let me know if there's anything else I can do.
Again, I am deeply sorry for this mistake.
Regards,
Flickr Staff
Thanks Flickr.
000, 4, accidentally, deletes, flickr, photos