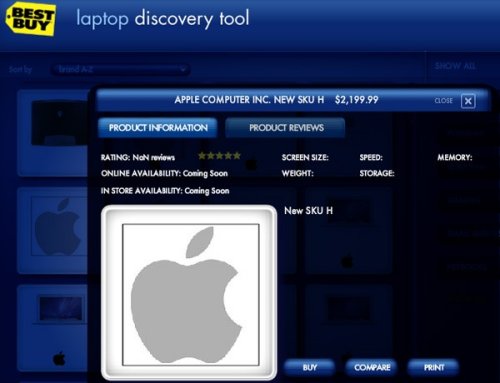 Best Buy's laptop discovery tool is giving away some secrets by listing a set of "new SKU" laptops from Apple before the company has had a chance to even announce them. Well, we already knew something was coming anyway, but it looks like this lends some credence to recent rumors of a MacBook Pro refresh coming next week.
The prices are $1,199, $1,499, $1,799, and $2,199, all of which are presently occupied by current-gen 13- and 15-inch MBP versions. There is also an additional $2,499 price for a laptop shown as "New SKU I," which is probably an upgrade to Apple's 17-inch model.

That's all we have to go on at the moment, but it is looking pretty good for Mac fans who want a new MacBook Pro. We will learn more soon and let you know.
Apple, Best Buy, laptop, MacBook Pro, SKU