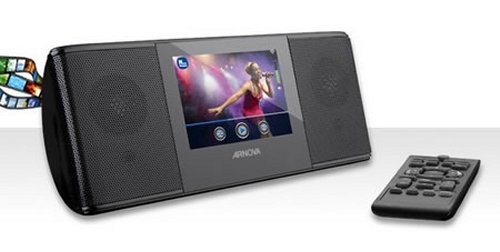 Archos' new portable device is the ARNOVA, a small web radio and TV with Wi-Fi capabilities. It offers access to 12,000 internet radio stations, and 1500 web TV channels and podcasts. It also allows users to stream media content directly to the device through its internal memory or through an SD card.
There's also an alarm clock that can wake you up to your favorite music station, web TV channel or any music from its internal or external storage sources. It has a USB 2.0 port in back for direct connection to your PC, a 3.5-inch color display with 320 x 240 resolution and it supports a bunch of video/audio formats including AVI, MPEG-4, FLV, MP3, WMA, WAV, AAC and FLAC.

Nothing on pricing and availability yet.
Archos, ARNOVA, Portable Web Radio, tv