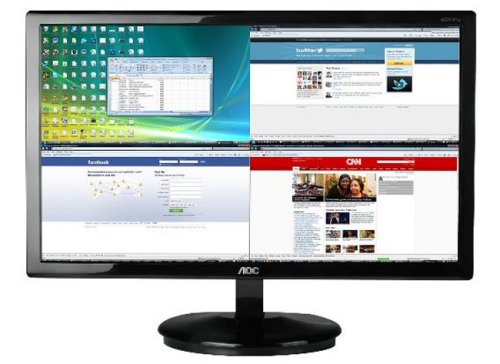 AOC offers all kinds of lower priced TVs and displays and now their latest has surfaced. It's called the AireLED Series. One of the more noteworthy features of these new LED displays is the fact that they are very thin at just 12.7mm thick.
The screens come in 20-inch (e2043Fk, $129), 22-inch (e2243Fwk, $149) and 23-inch (e2343Fk, $179) versions and will be available online and in stores like Best Buy and Radio Shack. All of the monitors share the same features which are 50M:1 dynamic contrast ratio, a 5MS response time, and DVI-D with HDCP.

The screens consume 15W of power while in use and 0.1W in standby mode. They also feature Screen+ which allows the user to divide the screen into four different work areas.
Aire, aoc, black, LED, monitor, thin