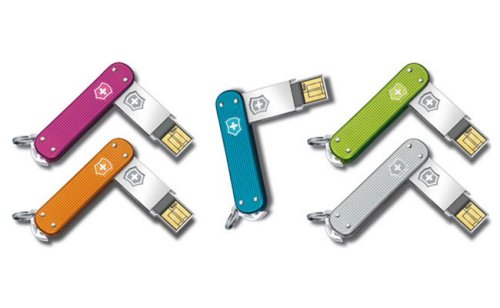 If these flash drives look like knives, that is no mistake. Knife maker Victorinox has unveiled it new range of Slim Flash Drives in penknife cases. And no, these won't get you in trouble at the airport. The Victorinox Slim and Slim Duo include all the standard pocket knife functions including blade, nail file and scissors, so you will always be ready for any task.
The Victorinox Slim flash drive can store up to 64Gb of data and can be secured using a personal password, with 128GB for the Victorinox Slim Duo. The Victorinox Secure SSD is actually the world's smallest 256GB solid-state drive and includes security software that provides automatic back-up functions with Zero-Footprint capability to ensure anonymity while web surfing. The bookmarks and favorites manager will synchronize your documents and folders between more than one computer as well.

No info yet on pricing or worldwide availability.
flash drives, slim, USB, Victorinox