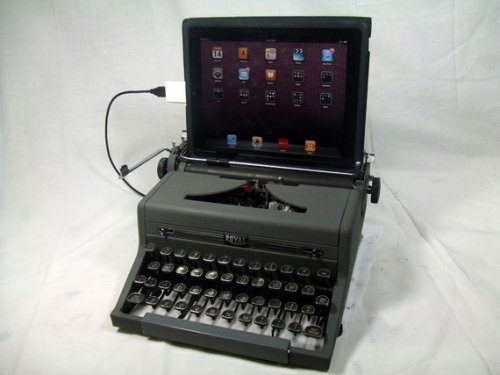 These days you have your choice of computing interfaces and platforms, but maybe you're looking for something a bit different. Something retro that still incorporates your modern gear. If that's the case, check out this antique typewriter that has been modified to work as a USB Keyboard for your PC, Mac, or iPad. It's fully functional computer keyboard. But also a typewriter.
It not only looks awesome with an iPad on it, it will work with all letters, numbers, and punctuation marks and includes shift, space, and return carriage, which is really activated by the typewriter's return carriage. What about non-standard keys like F1-F12, esc, ctrl, etc? They are all available on a special toggle key.

This mod is done in such a way that it still works as a typewriter as well should you ever have the urge to use paper. The price $849.
iPad, Mac, Typewriter PC, USB