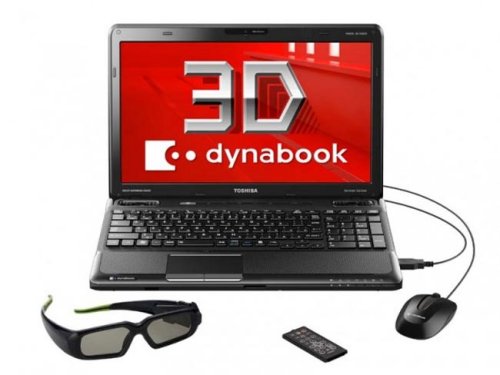 Toshiba is launching a 3D notebook just like everybody else, with the Launch of the Toshiba Dynabook T441/D8B, which is one of the companies first 3D notebooks. The Toshiba dynabook 3D features a 15.6 inch LCD display with a resolution of 1,366 x 768 pixels, an Intel Core i7 2630QM 2GHz processor and a 1GB NVIDIA GeForce GT 540M graphics card.
Other specifications include 8GB of DDR3 RAM, a 750GB hard drive, a 0.3 megapixel web camera, one USB 3.0 port and three USB 2.0 ports. It also features HDMI, Ethernet, 802.11 b/g/n WiFi and it will come with Windows 7 Home Premium 64 bit.

The Toshiba dynabook 3D will arrive in japan next month and will retail for $2,540.
3D, Dynabook, Notebook, Toshiba