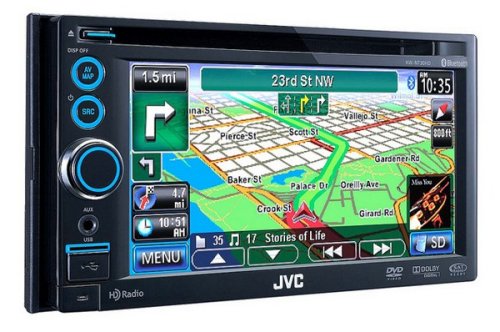 JVC's new in-dash GPS navigation systems will offer some music to go with their navigational help. The KW-NT50HDT and KW-NT30HD feature 6.1-inch displays along with HD radio and iPhone connectivity via USB. With ClearChannel's iheartradio app, you can check out song and artist information and scan channels from either the navigation device or your iPhone.
The NT50HDT comes with a free lifetime subscription to the Total Traffic HD+ Network, which will give you data like traffic reports, news, and weather. Both devices have WAAS navigation, map coverage of all 50 US states, Canada and Puerto Rico, and voice guidance in English, French, and Spanish.

They will arrive in March, with the NT30HD costing $1,000 and the NT50HDT $1,200.
50HDT, HD Radio, iPhone, JVC, KW-NT30HD, navigation systems