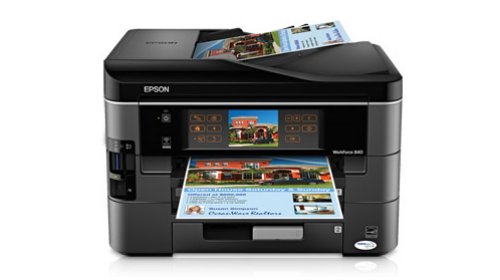 The Epson WorkForce 840 All-in-One was announced at CES 2011 and one of the first things you notice is that they have crammed a bunch of features into a fairly compact frame. The price is $300(Down to $199 on their site already). It's ideal for the small office at that price for what it packs in. The 840 will do the usual printing, copy, scan, and fax. It will scan to your PC or to e-mail and can print from or scan to memory cards or USB drives. It will also print or copy multiple pages onto a one sheet.

If your needs are large, it has a 500-sheet paper capacity between two 250-sheet trays. It will print on both sides of a sheet of paper as well as scan or copy both sides of a sheet of paper. It is compact like I said, measuring 12 by 17.5 by 14.5 inches. It weighs just 22 pounds. Like previous models it also has a 7.8-inch responsive touch panel with a 3.5-inch LCD screen, which tilts up and down. And like the previous all-in-ones from the company, it offers Ethernet or WiFi networking, or can connect via USB cable to your computer.
Printing speed is as fast as anything we've seen and seems on par with last years model. So how is the photo quality? Keep in mind that this is a business printer. Even so, for a business model, it wasn't bad. Maybe a tad washed out or pale. Not terrible by any means and for business needs it will do just fine. Text quality seems fine. Nice and crisp. Should fit all of your business needs there.
As usual, they have made all of the features super easy to use, so that anyone can unpack it and get started very quickly, which is another plus. Connecting to your wireless network is super easy again.
We definitely recommend this one for small offices due to it's large paper capacity, responsive touch screen and a great range of functions for the price.
Epson, Hands on, WorkForce 840. All-in-One