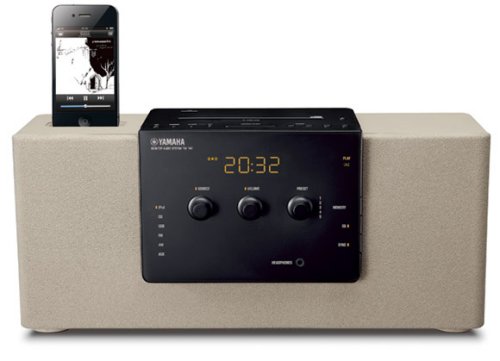 Let's face it, you have way too many iPod dock options. But this offering from Yamaha is stylish, powerful and should look good in your bedroom. Plus it will wake you gently. The TSX-140 desktop audio system promises to wake you gradually with the sound of your favorite music. It can fade in the music rather than simply jolting you awake.
It's compatible with Apple's iPod Touch and iPhone (3G/3GS/4), and it is also capable of playing MP3 and WMA files stored on a USB stick, as well as FM/AM radio programming.

It features two 3.5″ ported bass reflex speakers, Yamaha amplification and a USB mini-B connector that foriPod/iPhone syncing to a computer while charging in the dock. There's also illuminated buttons on the top panel, while three front panel controls give access to source, volume, radio presets, alarm clock and equalizer functions. It will come in three colors (black, brick and gray), for $399.95.
iPod, speaker dock, TSX-140, Yamaha