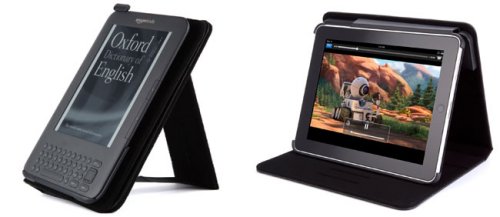 Speck has unveiled some new cases for your iPad or Kindle 3. Both are called DustJacket and come in red and black colors. These cases are made of fake leather and are designed to prop up the devices so you can read or watch video easily.
The DustJacket for the iPad opens like a book and has a protective cover that folds back and the screen can be propped at various angles. There's also a micro-fiber interior to prevent scratches. The iPad case is $49.95.

The DustJacket for Kindle 3 is a folio style case with a stand that retracts into the case. It also has a microfiber lining and will cost you $34.95.
Cases, DustJacket, iPad, kindle 3, speck