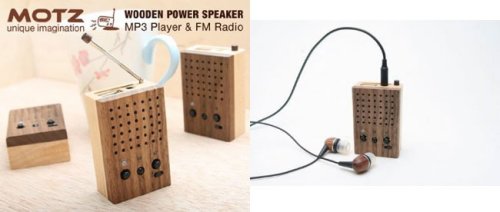 The latest offering from Motz is a new wooden portable speaker that will work with the iPhone, iPod, and other sources. It looks like a vintage transistor radio that just happens to be made of wood. It's appropriately called the Motz Tiny Wooden Power Speaker.
The internal battery of the speaker can be used to charge USB devices that are plugged into the USB port. The speaker also has a SD card slot for playback of digital tracks. There's also an integrated FM tuner with a built-in antenna. The unit only takes three hours to charge.

It will cost you $59.99.
Motz, power, Radio, speaker, tiny, Wooden