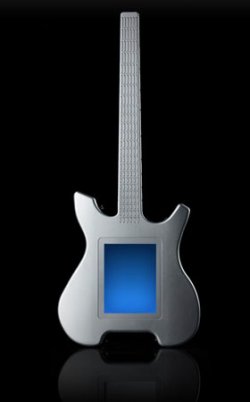 The Misa Kitara Digital Stringless Guitar is now available for pre-order if you want to be all "Look ma, no strings!". This futuristic instrument includes a multifunction touchscreen, MIDI controls and an on-board polyphonic synthesizer with effects, allowing guitarists to fully express their musical vision without a single string.
You control sound through your fingers, using the touchscreen and fret board to play and alter sounds in real-time. It's powered by a Linux OS and also has a 1.25-inch audio output, a 3.5-mm headphone out and comes with 100+ digital sounds, 6 pre-loaded effects, 24 frets and 144 notes.

The body is high-density injection-molded ABS polymer, while the Kitara Limited Edition features a precision-etched body of solid aluminum. The Kitara and Kitara Limited Edition are priced at $849 and $2,899.
digital, guitar, Kitara, Misa, Stringless