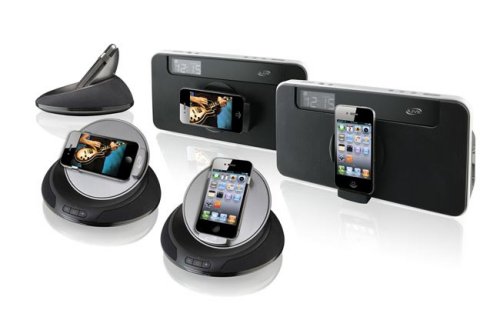 iLive has given us a sneak peek at their new line of iPhone and iPad docks that they are launching at CES 2011 next week and they look pretty decent. Maybe even sexy. Along with their traditional docking stations iLive will also be showing off its new App Enhanced docks offering features like clocks, multiple alarms, calendars, nature sounds, sleep timers and weather information, all controlled from apps on your iOS device of choice.
The iLive iPad docks offer charging capabilities and can be rotated for viewing in both portrait and landscape mode. The iSD131B is a case, stand, and powered speaker all in one for $49.99. The iSD391B is a powered 2.1 speaker audio system and dock for iPad/iPhone/iPod touch and is App Enhanced for $99.99

The iSP391B offers quality sound, a rotation function for the iPhone from portrait to landscape mode and it also vertically adjusts the viewing angle of the iPhone for $49.99.
app enhanced, docks, iLive, iPad, iPhone, rotating