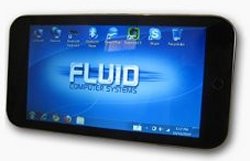 Remember that Fluid tablet that was supposed to arrive before Christmas? Well, it is here as promised. Sort of. Amazon started selling the Fluid Stream 10-inch Windows 7 tablet, but now it is just as quickly listed as out of stock.
The device packs a multi-touch display with a 1024×600 pixel resolution, a 1.66 Intel Atom N450 processor, 1GB RAM, a 160GB hard drive, Wi-Fi, Bluetooth and an HDMI output.

According to Fluid Computer Systems, the device is priced at $599.
10-inch, fluid, stream, tablet, windows 7