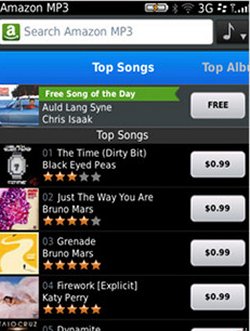 RIM and Amazon.com have teamed up to launch Amazon MP3 for BlackBerry smartphones. That means that Blackberry addicts will be able to access Amazon's catalog of over 14 million songs and enjoy them on the go. Amazon MP3 for BlackBerry allows users to browse, preview, download, store, and even inform their friends about their favorite music.
It will let you download music via Wi-Fi or over the air (OTA), browse through what's new, check out deals, top songs, top albums, genres, and sub genres among other things. Just like iTunes, you can also check out a 30-second sample of a track before buying.

You can get a beta version of Amazon MP3 for BlackBerry on BlackBerry App World in the Test Center.
Amazon, BlackBerry, MP3