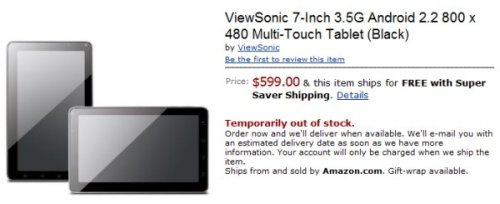 ViewSonic's ViewPad 7 tablet is on sale at Amazon for $599. That's over a hundred dollars more than it was supposed to cost. This will no doubt hurt the devices sales, despite the 600MHz ARM CPU and front and rear-facing cameras on board.
Since Samsung's Galaxy Tab doesn't have phone functionality in the states, there is a market for a seven-inch Froyo tablet that can do voice calls, but that price is a deal-breaker. What do you think?

Tooexpensive? Or worth it?
[Amazon] VIA [Engadget]
tablet, ViewPad 7, Viewsonic