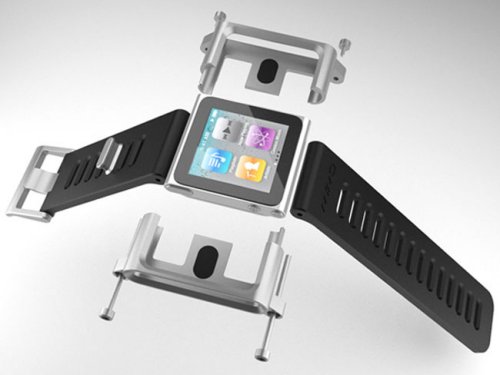 A project started by Scott Wilson over on Kickstarter has made the money it needs to go from concept to the real world. The projects are the Tiktok and LunaTik watch kits for the new iPod nano. Scott needed $15,000 to fund the project and ended up with over $75,000. I guess people really want them.
And why not? They are the coolest watchbands for the nano we've seen yet. The TikTok is a snap in band that the iPod can be removed from easily. While the LunaTik is made from aluminum parts and comes in silver or red colors.

The machined parts screw together around the nano making the nano into a very real watch. All the controls and ports are exposed on both kits. The TikTok should sell for $34.95 when it finally hits stores and the LunaTik will be $69.95.
iPod, kits, LunaTik, nano, TikTok, watch