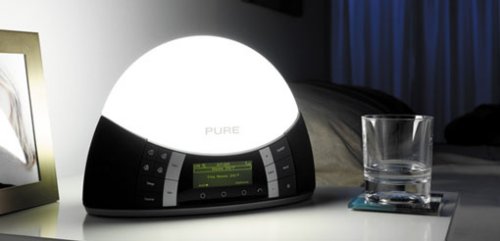 The Pure Twilight Alarm Clock won't wake you up by asking if you are team Jacob or team Edward, despite it's name. But it is a dawn simulator lamp and digital radio in one. This alarm clock comes with several alarm settings. You can wake to a tone, a digital radio, an FM radio, or special alarm tones including "church bell" and "cockerel" or natural sounds like "wind chimes", "dawn chorus" and "cicadas".
They all sound annoying to me. This device also uses several bright LED lights to simulate a gentle sunrise before the alarm goes off, allowing you to slowly wake up instead of being jolted awake. It also has a PowerPort, which lets users charge their cell phones or PMPs.

The Twilight Bedside Digital and FM Radio is now available for about $200.
alarm clock, Pure, Twilight