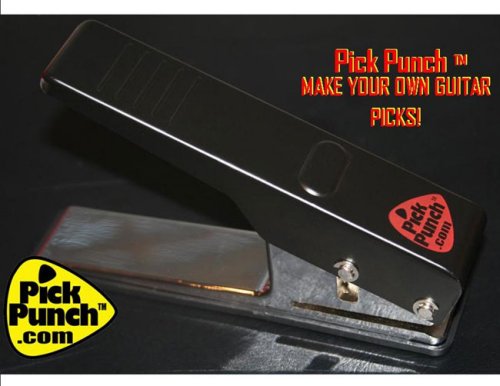 Rocking the guitar is cool. I mean, if you play a mean guitar, you get the gigs, the babes and the money. You can be a rock god. And with millions of hopeful rockers, come millions of picks, which are easy to lose. Well, the Pick Punch can punch picks out of all sorts of plastic items like credit cards, gift cards, and more. You can buy sheets of material from the company and make your own custom picks.
The Pick Punch sells for $24.95 and makes picks in the 351 style that are roughly triangular. They measure 30mm tall x 25.5mm wide. Each sheet of pick material is $3.00 and can make 56 to 85 picks.

Pretty awesome. You'll never be without a pick again.
custom, DIY, Guitar Picks, make your own, Pick Punch