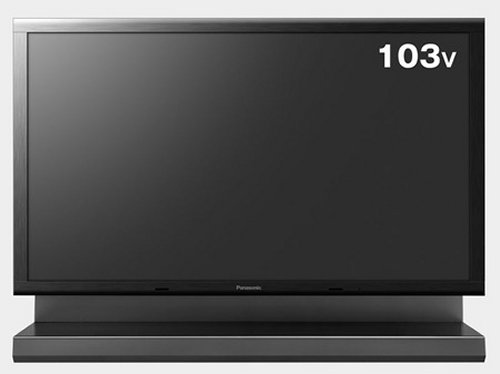 Back in 2008 Panasonic introduced the TH-103PZ800, a 103 inch full HD Plasma. Fast Forward to today and Panasonic has improved the technology and introduced the TH-P103MT2, which supports 3D playback. It lacks a TV tuner, but supports full HD resolution and comes with a new dynamic black layer, better gas discharge technology and improved luminous efficiency.
It features a contrast ratio of 5,000,000: 1, 24Hz image processing and even comes with a pair of 3D glasses. This mammoth TV weighs 320 kgs and consumes 1350 Watts of power which is the equivalent of 10 40 inch LED televisions.

It will be available in Japan only and pre-ordering starts on November 18 for 8,500,000 Yen ($ 102,000).
103 inch, 3D, Panasonic, Plasma, TH-P103MT2, tv