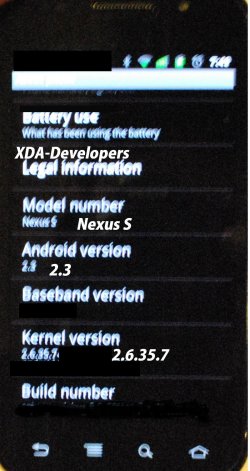 More pictures of the Nexus S have surfaced, coming from the guys over at XDA-developers. Judging by these pics, it looks like the device is running an operating system very much like Android Gingerbread.
It's labeled as Android 2.3 in the pics, and this one features a back cover that's similar to the original Galaxy S, just a bit more curved. Looks like the phone will have 720p video recording too.

Other specs include an ArmV7 CPU may be Dual Core, Open GL ES Supported, 512 or 328MB Ram? and maybe 1GB or 2GB Internal Memory. There's also a 800×480 4″ Screen.
Android 2.3, Gingerbread, Nexus S