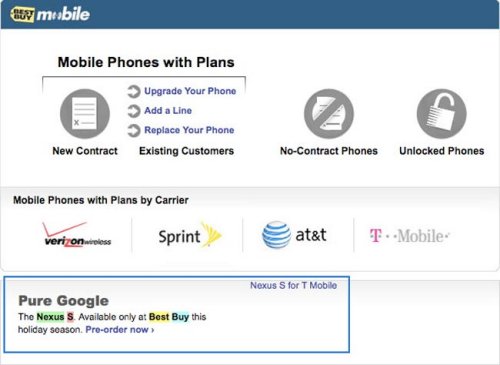 Rumors have been swirling around the interwebs that Google will be releasing a follow up to their Nexus One smartphone, the Nexus 2 or Nexus S. We had previously heard that Samsung would be making it for the big G.
However, then Samsung released a statement saying that they were not making a Nexus 2 smartphone for Google. Now it looks as if Samsung was just playing the "deny everything" card. A new smartphone was spotted listed on Best Buy, the Nexus S, with the tagline 'Pure Google'. Best Buy has since taken the page down.

So it looks like Goole is about to release the second generation of the Nexus smartphone, the Nexus S, with T-Mobile and it looks like Samsung will indeed be producing it.
Best Buy, Google, Nexus S, website