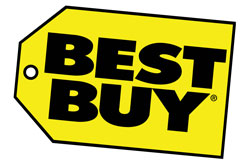 Best Buy today has kicked off a post-Thanksgiving sale with a heavy emphasis on iPods. If you buy an 8GB fourth-generation iPod touch, you get a free GPS unit from the store's in-house Insignia brand. Other iPods are also on sale, ranging from $5 for a fourth-generation iPod shuffle to $10 off new iPod nanos and $15 off the iPod classic.
It's a good day to buy an iPod it seems. Zune too. If you want a Zune HD, you can also get a deal, as those who buy the 16GB or 32GB models can get a Zune HD AV Dock for free.

How about some free Android smartphones on contract? These include the HTC Droid Incredible, the HTC Aria and the just-launched T-Mobile G2. Windows Phone 7 also gets a discount with the HTC HD7 going for $80 with a T-Mobile contract.
Best Buy, free, GPS, iPod Touch, smartphones