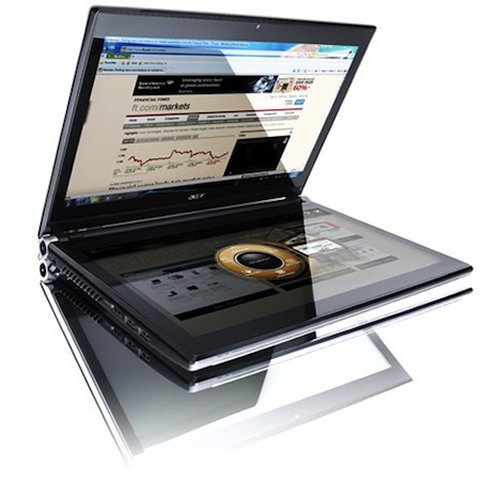 Aside from its Windows 7 tablet and Android tablets, Acer has announced a dual-screen tablet/notebook. The Acer Iconia has two 14-inch touchscreen panels that can be used in either book mode or as a traditional notebook with the secondary screen acting as a keyboard.
The device features an Intel Core i5 processor, Bluetooth 3.0, WiFi b/g/n, USB 3.0, 2 USB 2.0 ports, HDMI and VGI output ports. HDD options range from 320 to 750 GB. There's also a 1280 X 1024 webcam, and resolution of 1266 X 768 on each of the 14-inch displays, with Windows 7 Home Premium.

You can rest your fingers on the virtual keyboard without accidentally hitting on the keys, but there will be learning curve to using it.
Acer, dual screen, Iconia, Notebook, tablet