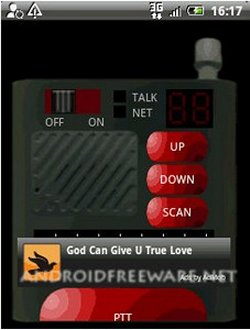 Virtual Walkie Talkie is a free Android program which basically turns your phone into a CB radio. The software works over WiFi and features multiple channels. It will stay on in the background until you deliberately exit the program.
So if you miss the days of CB radios and need to go all "breaker, breaker, good buddy", now is your chance. Just be prepared for Koreans, Germans and other nationalities to all be chatting away, which you wouldn't have found on the old Citizens Band radios. Sounds like fun though. Maybe this will make CB talk popular again. Probably not though.

If you want a private channel chat option, you can pay for the upgraded version, or set up your own server on your handset.
Android, CB radio, phone, virtual, walkie-talkie