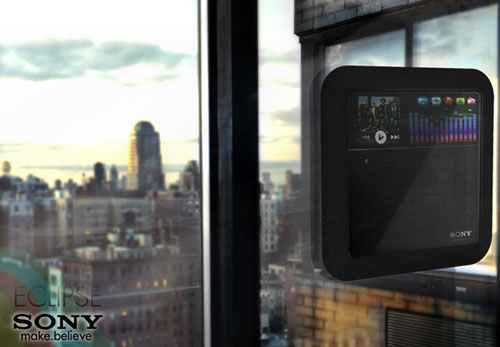 I like a nice concept product because it lets us have a glimpse at what the gadgets of the future might look like. I have no doubt that at some future date solar power will be the main means of powering all manner of electronic devices. Today isn't that day though with solar panels that are generally unable to power much of anything quickly or for a long time without room for a very large solar panel.
A new concept media player has surfaced that has the Sony brand. It's not an official Sony concept apparently and it is called the Eclipse. The Eclipse has a solar panel on the back that gathers all the power the thing needs to operate. It has integrated speakers and a touchscreen for viewing video content.
Connectivity to a PC or mobile phone is with Bluetooth and the thing even has a holder for a media player that ejects like an old cassette player. I doubt we ever see this thing hit the market, but as concepts go, it is pretty cool.
Concepts, media player, Sony