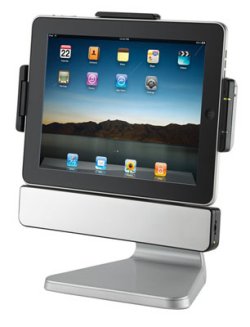 SMK has introduced a new iPad speaker dock called the PadDock 10. This iPad speaker dock has custom-designed oval speakers with high-energy neodymium magnets for sound that will fill the room. A passive radiator extends the bass frequency for a natural full range audio quality.
There's also a switch on the side of PadDock 10 that allows you to switch between Charge and Sync modes without changing cables. The SMK PadDock 10 also rotates 360 degrees to change the orientation.

The SMK PadDock 10 iPad speaker dock will cost you $100 and ships on November 1st.
iPad, PadDock 10, SMK, speaker dock