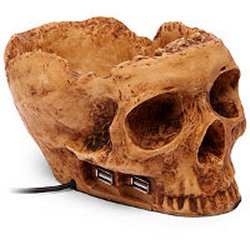 The Skullhub USB hub is great for archeologists, Doctors named Bones and serial killers. It's made of resin and is sure to scare anyone away who approaches your desk. It sports four USB 2.0 ports and it looks like the top can be used to hold candy or paperclips.
Alas poor Yorik, I knew him well… But then I took his head and mounted it on my desk. I plug in USB gadgets. He doesn't seem to mind.

The Skullhub USB hub will cost you $25.
halloween, head, skull, Skullhub, USB