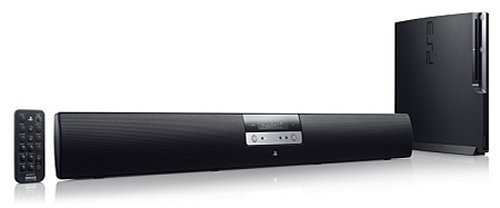 It's a good time to upgrade to a PlayStation3, with all of the various things that the console can do. These surround speakers are the latest reason. The bar has an in-built subwoofer and it connects using an optical connection.
It also has analog input for other sources and the device ships with its own remote control that allows users to pick from standard, stereo, vivid and dynamic sound fields. Other specs include a night mode, where the bass is reduced, the subwoofer with 30W of power and front-facing speakers with 10W of power.

It ships next week for $180.
PS3, remote, speaker, Subwoofer, Surround