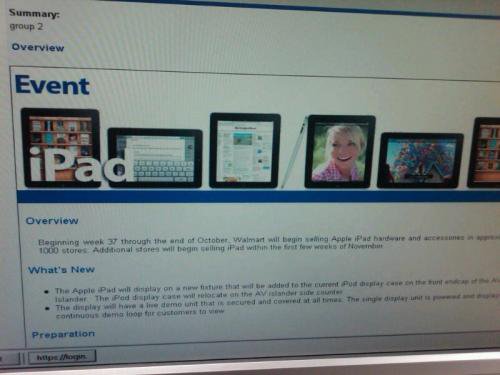 Way back in May we told you that Walmart would be offering iPads this year and it looks like that is about to happen. A photo of an email sent to Walmart store managers received by MacRumors indicates that the Apple iPad will be rolled out to up to 1000 stores by the end of October, starting next week.
The photos show that Walmart will be offering all six models of the iPad with initial stock limited to just five of each model per store. Never fear, the standard range of iPad accessories will also offered along with AppleCare extended warranties. Sources say that an additional 800 stores will begin carrying the device in November, and each store will have a live demo unit inside a case that will include a looping video demonstration of the iPad in action.

Don't forget the toilet paper and snacks while you are there.
Apple, iPad, stores, walmart