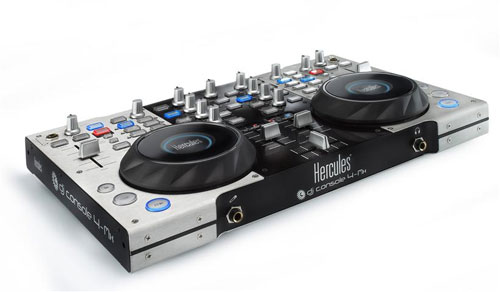 Hercules has unveiled a new tool for the pro DJs out there that is called the DJ Console 4-Mx. The thing is crammed full of features and has a surprisingly reasonable price considering it is pro level DJ hardware. The device has dual jog wheels that are 4.7-inches in diameter and three fourths of an inch tall.
The 4-Mk can be used in both 2-deck and 4-deck modes. When in 2-deck mode the console has 89 controls and when in 4-deck mode the console has 150 controls. The job wheels also have detection sensor that detect the weight of a hand.
Each of the jog wheels is backlit with an indicator in the center to show that it is activated and they have an external ring for additional control. The console has six transport buttons, 12 customizable control buttons and it has pitch faders. The 4-Mx will ship in late November for about $500.
dj controller, Hercules