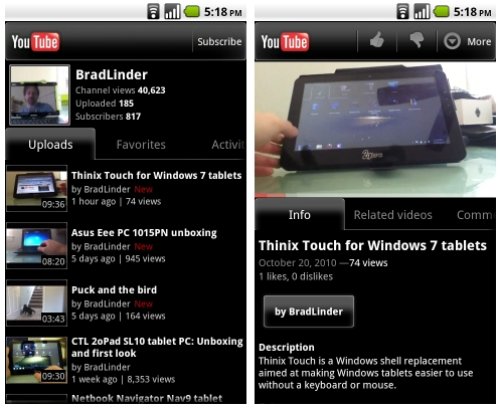 Google has announced a new version of its YouTube app for Android. Most Android phones come with YouTube preloaded already, but the new version is available as a separate download from the Android Market. Google is trying to make it easier for users to update key apps without waiting for their phone company to upgrade to the latest version of the Android operating system.
The new app currently requires Android 2.2 and up. It also supports in-page playback, allowing you to read comments while a video is playing. You can still watch videos in full screen, by rotating the display. It's easy to search YouTube, view and subscribe to channels, even shoot videos with your camera and upload them directly to YouTube.

You'll also see a personalized list of recommended videos on the home screen.
Android, app, Google, YouTube