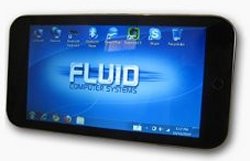 If you don't know that tablets are the hottest toy around this holiday season, you haven't been paying attention. Fluid Computer Systems knows this and is working like tired little elves to make sure they can meet a pre-Christmas release deadline for their Windows 7 tablet.
1,000 of the multi-touch screen computers are currently being readied. These will feature a 10.1-inch display, Wi-Fi and Flash-friendly browsing. It's your call as to whether the $599 pre-order asking price is worth it or not. You get 1GB of RAM, 160GB of storage, an Intel Atom processor and Bluetooth support.

For another $100 you can get the model with built-in 3G, but you will be waiting until February of next year.
Fluid Computer Systems, tablet, windows 7