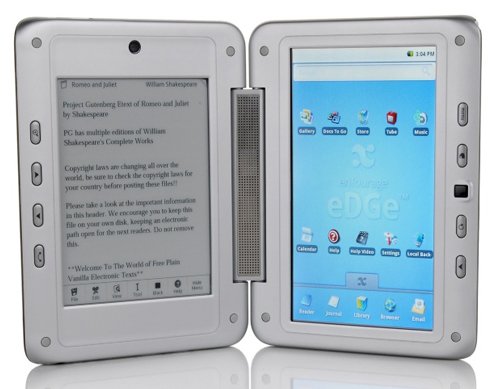 Entourage has launched its Pocket eDGE dual touchscreen tablet, which incorporates a monochrome 6-inch Wacom Penabled E ink panel on the left and a 7-inch color resistive touchscreen display on the right. It's running Android 1.6 as well as Embedded Linux and the trackball on the right has now been replaced by an optical touchpad.
The Wi-Fi 802.11 b/g enabled device includes 3GB of on-board storage, a 2-megapixel camera capable of capturing video, a USB port, and a microSD slot. It comes pre-loaded with apps including a web browser, Documents to Go, email, journal, music player, notepad, camera, camcorder, audio recorder, calculator, calendar, contacts, dictionary, file explorer, You Tube, and a reader app.

It also ships with a Create and Share suite of apps for photo editing, video editing and PDF converting. The device also includes a complimentary one-year subscription to Wired Magazine.
dual touchscreen, EDGE, Entourage, pocket, tablet