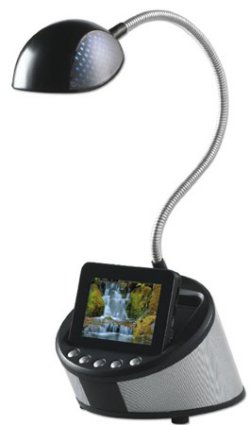 Digital picture frames just got a little crazier. Behold the Digital Photo Frame Lamp. A photo frame with a lamp attached. The long lasting, super bright LED lamp comes with an adjustable neck and an LCD screen for viewing your vacation images and whatnot.
The 3.5-Inch hi-resolution digital display features a 320 x 240 resolution with slide show function. It can hold over 1000 images. There's also a digital clock, a calendar and a memory card.

The Digital Photo Frame Lamp is priced at $49.99, should you need both a lamp and a photo frame in one.
digital photo frame, lamp, photos, picture frame