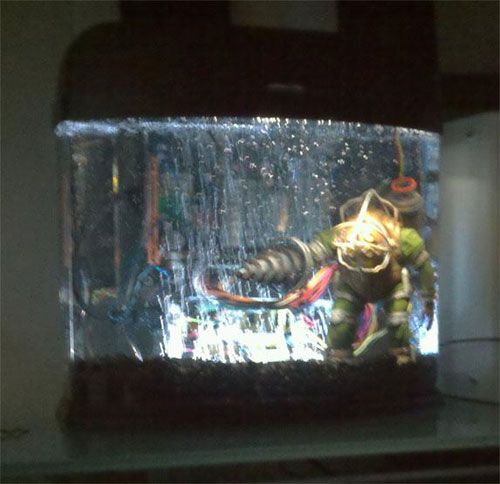 Over the years, I have laid eyes on some strange casemods and have seen more than one machine that was submerged in oil. A new casemod has surfaced that has a Bioshock theme. The builder uses an aquarium to put his new HTPC under four gallons of mineral oil.
The mineral oil is normally used as a laxative for horses apparently. The mainboard and PSU are mounted to a clear plastic sheet and placed into the aquarium. The only hardware part not under the oil is the HDD. The maker rounded the design out with a bubble filter, gravel and a few other things.
The finishing touch is a Big Daddy figure that the builder bought from Amazon. The finished product looks really cool and I would like to see it with more Bioshock styling cues integrated. Check out the video below.
Aquarium Media Center PC from sirleechalot on Vimeo.
casemod, Comptuer, pc