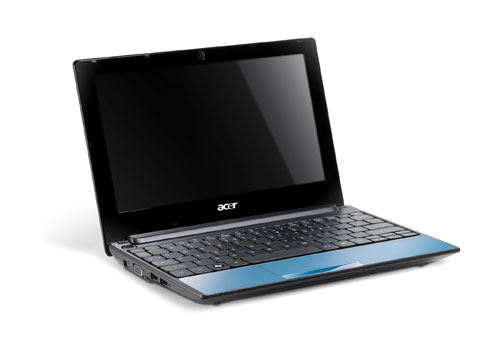 Acer has been in the netbook business for years now. Sales of netbooks are slumping as tablets and full notebooks are doing better now that the worst of the economic slump is behinds us. Acer has announced the addition of a new netbook to its line.
The new machine is called the Aspire One AOD255. Acer will offer the machine with either an Atom N450 single-core CPU or a N550 dual-core CPU inside. The machines will both support DDR3 and get 1GB of memory standard. Storage for the machine is to a 250GB HDD.
Other features include a battery good for 8-hours per charge and a svelte 1-inch thick 2.5 pound form factor. The screen is 10.1-inches and LED backlit promising to be 22.2% more power efficient than other screens. The netbook will start at $329.99 for the N550 and $269.99 for the N450.
Acer, Netbook