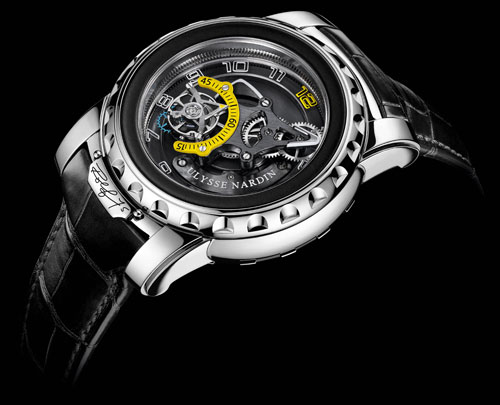 Most of us buy watches, assuming we even wear a watch, that are relatively cheap. There are some wealthy folks out there that buy watches more as a fashion statement than to tell time. One of the watchmakers that produce some of the coolest designs is Ulysse Nardin.
The latest creation from the maker is to celebrate the company owner's 75 birthday. The watch is a limited edition and only 75 will be sold globally. The watch is called the Freak Diavolo Rolf 75. The cool part about the watch is that it lacks a true dial, crown, and hands. The pieces and gears that make the watch are exposed for all to see.
The maker calls the design devilish with red horns and a power-reserve backing. The watch is wound by turning the lower dial and the time is set by turning the upper dial. As with most high-end items pricing is not revealed, but if you have to ask.
Ulysse Nardin, Watches