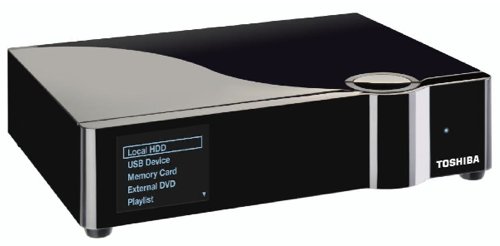 Toshiba's StorE TV+ media drive looks forward to connecting to your TV, and filling up its 2TB hard drive with shows for your viewing at your leisure. It features 802.11n as well as 10/100 Ethernet and even has a tiny LCD display on the front to make things easier to view.
A wide range of formats are supported by the StorE TV+ including Ogg and Flac audio and MPEG 1, 2, 4, H.264, VC-1 codecs, AVI, WMV, MKV, MOV and MP4 for video playback. Both DivX and XviD are missing from that list for some reason.

The StorE TV+ will hit the market this month for £200.
2TB, 802.11N, hdd, StorE TV+, Toshiba