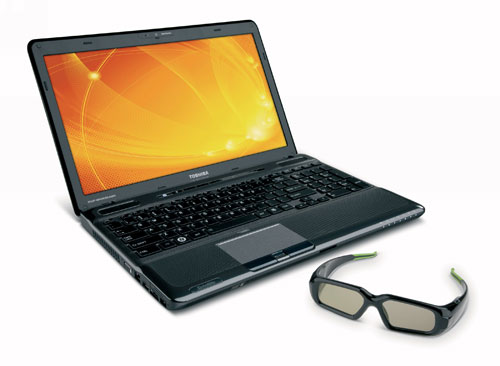 If you have been waiting to get your hands on a 3D notebook that can shoot that 3D video out to your TV, Toshiba has a new offering coming next month that will fit the bill. The notebook is called the Satellite A665 3D Edition and it uses NVIDIA 3D Vision technology.
The notebook ships with a single set of active 3D glasses and has a 15.6-inch HD LED backlit screen with a 120Hz refresh rate. The machine can be fitted with Core i5-460M or Core i7-740QM CPUs. The machine has up to 6GB of RAM available and has 640GB of storage.
Other features include a Blu-ray player that can burn to DVDs and offers LabelFlash tech. The GPU inside the notebook is an NVIDIA GTS 350M with 1GB of DDR3 RAM. Other features include HDMI 1.4 out, WiFi, WiMax option, a 6-cell battery with a 12-cell option, and Bluetooth is optional as well. The notebook will ship in October for $1299.99.
3D Notebook, Toshiba