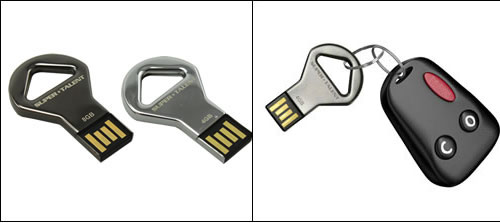 Super Talent has a gob of different flash drives and external storage devices that cater to the needs of many different user types. The latest product that the company has unveiled is a flash drive that is designed to go everywhere with you, assuming you have your keys.
The flash drive is called the CKB and it is made to fit onto any keying with a large opening that will fit even the fattest key rings. The drive comes in black or silver colors and can be had in multiple capacities. The USB connector is exposed to the elements, but the drive has a rugged design.
Super Talent claims that the drive is water resistant and rugged. It measures 40mm L x 25.9mm W x 3.7mm H and weighs 6g. The drive is offered in 2GB to 32GB and has a lifetime warranty. Pricing and availability are unannounced at this time.
flash drive, Super Talent