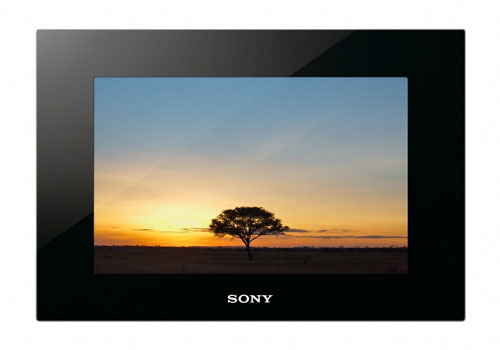 When it comes to digital photo frames Sony already has several offerings. Digital frames are very popular and are one of the best ways to show off all the pictures you take without spending time and money printing them all out.
Sony has added three new frames to its lineup. The new fames include the DPF-XR100, DPF-VR100 and DPF-D830. The XR100 and VR100 are very similar with the notable exception that the XR100 is a portrait mode frame. Both can show AVCHD format video and have 10.2-inch LED backlit screens. Both of these frames also have an internal image processor that will scale pictures up to 256MP to fit the screens.
The frames also support the Sweep Panorama feature on Sony digital cameras. The D830 is a battery-powered frame good for 100 minutes on a charge with photo viewing only and an 8-inch screen. Each of the three offerings has 2GB of internal storage. All three frames will ship in November with the XR100 at $250, the VR100 at $200, and the D830 for $150.
Digital Photo Frames, Sony