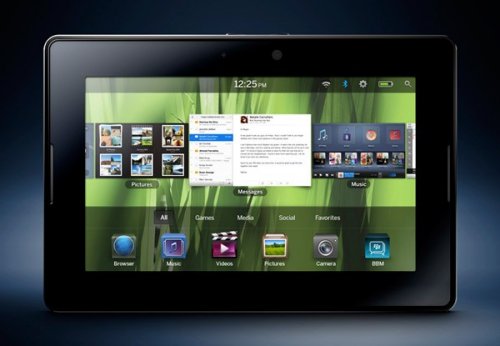 We've been waiting for a good while and today at Research In Motion's annual BlackBerry Developer Conference, CEO Mike Lazaridis announced the PlayBook. The tablet will use an OS created by the recently acquired QNX, which is called the BlackBerry Tablet OS. It offers full OpenGL and POSIX support along with web standards like HTML5. The company's founder, Dan Dodge said that "QNX is going to enable things that you have never seen before," and added that the PlayBook would be "an incredible gaming platform for publishers and the players."
The PlayBook's can handle Flash content via Flash 10.1, as well as Adobe AIR apps. It will feature a 7-inch, 1024 x 600, capacitive multitouch display, a Cortex A9-based, dual-core 1GHz CPU, 1GB of RAM, and a 3 megapixel front-facing camera along with a 5 megapixel rear lens. The PlayBook will be capable of 1080p HD video, and comes with an HDMI port as well as a microUSB jack, 802.11a/b/g/n WiFi, and Bluetooth 2.1.

The device measures 5.1- by 7.6-inches and is only 0.4-inches thick, and weighs just 400g (0.9 pounds).
BlackBerry, PlayBook, RIM, tablet